Yeast is the theme for this month's Red Star Yeast Iron Chef Challenge from Ott,A.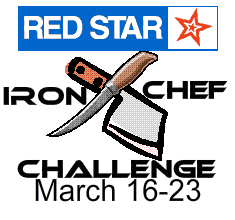 I figured this would be a good time for a quick science lesson with the kids, but I knew I had to make it fun. What's more fun than doughnuts?!
This is a recipe that I had written down in my recipe drawer. I'm not sure where it came from, but I have notes written all over it with my adjustments from each time I make it. I think we finally have it nailed down to our tastes now!
In a medium bowl, stir together the scalded milk, sugar, and salt. Set aside to cool. In your mixing bowl, mix vanilla and 2 c flour with the milk, and beat until well blended.
In a small bowl, dissolve the yeast in warm water with a pinch of sugar. This is where the science lesson comes in. The kids are amazed that the little packet actually contains live organisms! They were a little freaked out when I first told them it was fungus, but they got over it when they realized those fungi digested the sugars in the dough and made carbon dioxide bubbles, which made the doughnuts rise and get all fluffy, which of course led to several yeast fart jokes. Girls...sometimes they're worse than boys!
Add to mixing bowl, then add butter and eggs. When that's fully mixed, add in the rest of the flour slowly. Switch out the paddle for a dough hook (or knead by hand) about 4 minutes. Move dough to oiled bowl, cover, and let rise 30 minutes. Next, roll out dough to about 1/2" and cut into circles (or use random cookie cutters like we did). Let rest for 30 minutes, covered.
Heat one inch of oil in a cast iron skillet to 375 degrees. Fry donuts a few at a time. Cook a few minutes on each side, until they're golden. Set on rack to drain. While still warm, dip into melted frosting and add sprinkles, coconut flakes, bacon pieces, etc.
Now the only step left is to eat!
Thanks Red Star yeast and Ott,A for another Iron Chef Challenge!