What a week! Have you guys been a busy as I have? In all the craziness of last week, I had a few chances to whip up some meals that were pleasing to everyone. The
fish tacos
went over great, as did my Tetrazzini.
I followed the recipe below from www.leftoverchicken.com, with my changes in italics.
Turkey Tetrazzini
Note: May be made 1 day ahead.
1 T. flour
1 T. butter
1 c milk
¼ t salt
¼ t pepper
¼ t paprika (sometimes my stomach doesn't like paprika, so I cut this out)
¼ t sage
¼ t dry mustard
Few drops onion juice (onion juice? I diced one small onion and sauteed it with the mushrooms)
1 t. lemon juice
2 c. cooked chicken, cut in pieces (I used turkey, chopped into pieces, didn't measure, but it was enough to serve 5 in the end)
¾ c cooked spaghetti (I cooked some angel hair pasta, again didn't measure)
½ c chopped fresh mushrooms (I used 2 portebella mushroom caps)
2 T. butter
¼ lb. grated Parmesan cheese (I used about 1/4 c.)
2 c. chopped spinach
Sliced, fresh mozzarella
¾ c butter bread crumbs
Make a medium white sauce of the flour, butter, milk and salt. Add the pepper, paprika sage, mustard and onion & lemon juices to the white sauce and heat to the boiling point. Add chicken turkey, spaghetti, spinach, parmesan cheese, and mushrooms and onions which have been sautéed in the butter. Fill 2 individual greased casseroles or one larger casserole with the mixture and top with mozzarella cheese and bread crumbs. Bake in 400 degree oven for about 15 minutes or until the crumbs are very brown and ingredients are warmed through.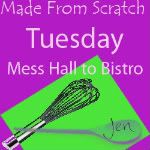 What goodies have you been cooking up this week?
Here are the rules:
1. You can link up as many posts as you'd like.
2. My only content rule is it has to be made from scratch.
3. If you want to put my button somewhere, that'd be cool. You can grab the code on the top right of my sidebar.