Ott,A
is at it again with another Iron Chef Challenge! This month is sponsored by
American Lamb
. Last year, the husband and I made it our mission to try one new food a week. Lamb came up during the summer, so this was actually our second time eating lamb. We enjoyed the first time, so the husband was really excited to see what I was going to create this time.
I started with this
recipe
, but altered it and used it as a marinade.
Here's what I used:
4 lamb chops (provided by Ott,A)
Salt and pepper
Rosemary
Garlic (I had small cloves, so I used two)
Lemon Juice
Olive oil
Combine all ingredients in ziploc bag and marinate 4 hours.
Later that night, I got out my grill and put the lamb chops on.
After a few minutes, I flipped them over and sprinkled with feta cheese.
The acid from the lemon juice really cut through the meat making it so tender! It practically fell apart in my mouth! We paired these with a spinach salad and
rosemary potatoes
. It was a delicious dinner we both enjoyed.
A big thanks to
Ott, A
and
American Lamb
for sponsoring this event!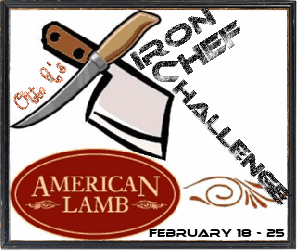 Make sure to visit the fantastic blog parties on my sidebar, and of course, link up all your made from scratch recipes on my Tuesday linky-Made From Scratch Tuesday!