So this last week, we were dealing with ICEPOCALYPSE 2011. With the looming fear of losing power, I was cooking up a storm so we'd have food in case I was without my stove for a few days. I baked a couple of loaves of bread to get us through. (What's new, right?) Now, I'm sitting here with bread we need to eat, but honestly, I'm kinda tired of sandwiches and I have a hard time getting motivated on Saturdays when we don't have kids, so it looks like we've found a solution! Stuffed French Toast! The best part about this is you put it all together the night before. Then you just pop it in the oven the next morning.
What You'll Need:
Slices of bread (amount will vary depending on the size of pan and number of layers)
4 oz mascarpone cheese
1 jar
peach marmalade
(amount needed will depend on number of layers you choose)
4 eggs
1 to 2 cups milk (depending on how eggy you like your french toast)
Cinnamon
1 T vanilla
Start by mixing the eggs, milk, vanilla and cinnamon in a medium bowl. Dredge bread slices through mixture and lay in the bottom of a glass baking dish.
In a separate bowl, whisk 4 oz mascarpone cheese and at least one cup
peach marmalade
. Pour this mixture over first layer of bread.
Add a second layer of bread that has been dredged through milk/egg mixture. Then top with additional
peach marmalade
, if desired. We did this because it added extra sweetness and cut out the need to add syrup after we baked it.
Then top with another layer of bread and sprinkle some cinnamon.
Cover and refrigerate overnight. The next morning, bake at 375 for 45 minutes. It's a no brainer the next morning!
What goodies have you been cooking up this week?
Here are the rules:
1. You can link up as many posts as you'd like.
2. My only content rule is it has to be made from scratch.
3. If you want to put my button somewhere, that'd be cool. You can grab the code on the top right of my sidebar.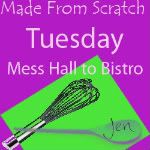 Have you linked up with
Decidedly Healthy or Horridly Decadent
recipe linky? I've been linking mine up for a couple of weeks now and have found some FANTASTIC recipes! These ladies sure know how to make a fantastic dish!
Would you like your recipe linky to be showcased on Made From Scratch Tuesday? Email me at jenperfla (at) gmail (dot) com.