It's
Canning Week Day 2! Aren't you excited??!! I know I am!
When you're done here, make sure to check out
Ott, A
and her post!
What is Canning Week? Well, Ott, A and I each do lots of canning. We love capturing the fresh taste of home grown goodies to enjoy throughout the year. We'll each have new posts every day this week, so be sure to come back and visit! We will also have an awesome giveaway! Make sure to check out Ott, A for her posts each day.
Peach Marmalade
In my opinion, Indiana peaches are some of the best. I get mine from Adrian's Orchards in Indianapolis. They have lots of yummy produce and homemade goodies.
Here's what you'll need:
4 lbs of fresh peaches, peeled and diced (save the peels! you'll need them on Thursday)
1 orange
1 lemon
5 cups sugar
1/4 c water
1 package powdered pectin (1 3/4 oz)
7 or 8 half pint jars and lids (Sterilize first!)
Cut orange in quarters, remove seeds, cut off rind and slice into very thin pieces. Repeat this with the lemon.
Put orange and lemon slices in small saucepan with 1/4 c water and simmer, covered, over low heat for about 20 minutes.
In large pot (at least 8 quart), fill with diced and peeled peaches and orange/lemon mixture. When it's at a full rolling boil, stir in pectin and bring to a full rolling boil once again. Stir in sugar,
stirring constantly
!!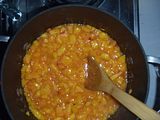 Boil hard for one minute and remove from heat. SKIM OFF ANY FOAM! This is very important.
Pour into jars and seal. To seal, process 5 minutes in boiling water bath.
There's plenty more to come with our first Canning Week. Check back daily for new posts, and don't forget to check out
Ott, A
!
For more information on Canning Week and all the giveaways, please see this
post
.
Calling all local food enthusiasts and people who just enjoy great food!
Are you close to Indianapolis? How would you like to win two free tickets to Dig-IN? The great news is I have two tickets to give away! All you have to do is leave me a comment saying you'd like to be entered in the Dig-IN giveaway. That's it!!
What is Dig-IN?
Here's information from their
website
:
If there is a heart in Heartland, we're it. And if there is bread in the nation's breadbasket, it probably came from us. Indiana has a long and proud agricultural heritage, and we plan on continuing that heritage the same way it began.
On August 29, 2010, Indiana growers will make their way to White River State Park to showcase their high quality locally produced products, and remind Hoosiers there is much more than corn in Indiana. Dig-IN will feature educational discussion panels, cooking demonstrations, urban gardening exhibits, local chef Q&A sessions, wine tastings, beer and food pairing classes, and much more. Combining the freshness of farmer's markets and our state's greatest food minds, this event promises a feast for the senses. Prepare to learn from Indiana agricultural and culinary experts as they invite you on a journey from field to table top. Don't miss the opportunity to help us celebrate all that Indiana agriculture has to offer. See you in August!
It's a great showcase for local foods and talent. If you've never been, I hope you sign up for the giveaway. Even if you don't win, here's how you can score your own
tickets
.