This post was linked to some of the parties shown here
Canning Week is coming! August 23-27 is canning week here and over at my blogger buddy's page here. We'll be having a linky party, recipes, tips, tricks, and GIVEAWAYS!!! See the button on the right? Go ahead and slap that on your blog and let me know so you can get your entries in early. We're also on Facebook! Join up to our group for an additional entry!
There are some things I just refuse to eat because I know how bad they are for me. That's mostly fried foods. I don't eat a whole lot of fried foods. In fact, I have no idea how to make fried chicken. Really. But one of the things I really enjoy is fried biscuits. I've never made them before. I usually reserve that for fair time. Because let's face it; there are things you ONLY eat at the fair. But since I was sick during the county fair, I can justify making fried biscuits, right?
Anyway, here goes with one of my (secret) favorite foods.
What you'll need:
1 can refrigerated biscuits
4-5 cups oil
Cinnamon Sugar
In small pot, put about 4 cups of oil on high heat. Heat up oil to between 360 and 375.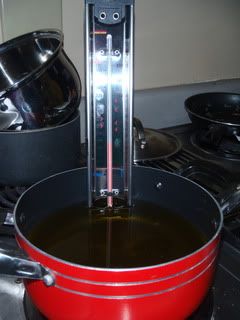 Drop biscuits in and fry for 2-3 minutes each side.
Immediately roll in cinnamon sugar and lay on paper towel lined plate to blot excess oil.
Now can you have fried biscuits without Apple Butter? I don't think so. Lucky for me, I just canned some applebutter.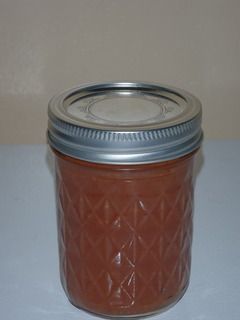 And lucky for all of you, "Canning Week" is coming up August 23-27!!! Don't forget to come back to my blog, and also to
Ott,A
for recipes, tips, a linky party and GIVEAWAYS!!!