When you're done here, make sure to check out
Ott, A
and her post!
I know many people who are afraid of canning, or don't see the benefit of canning something that is readily available at any super center. Here are some of my thoughts on that:
1. When done properly, there is very, very little risk of food poisoning.
2. It's EASY!
3. Things always taste better when you've put your blood, sweat, and tears into them. (Well, make sure to keep all bodily fluids
outside
of the jars)
4. It's a great way to get your kids involved in the kitchen. Then later when you're eating those home canned foods, you can remind them of the fun time they had helping you make it.
5. You know what's in your food.
6. Are you really going to use the 342 cucumbers from your garden before they go bad?
7. If you have a brown thumb, then you can buy the products from your local farmer's market and support the local economy.
8. By canning locally grown products, you're capturing the regional flavors of produce. For anyone who thinks all strawberries taste the same, they've clearly never experienced the difference. Trust me, there is!
9. It's cheaper. Once you get all your start up costs taken care of, foods can be canned for pennies.
10. Home canned products make great gifts.
Supplies:
I use the water bath method, so I purchased a large pot with a lift out rack. ($13)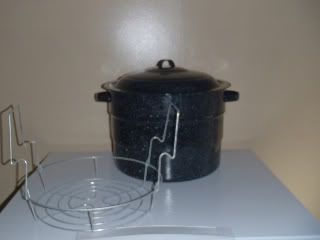 Jars ($6-$8 per dozen jars...which are reusable)
Replacement lids ($1 per dozen)
Miscellaneous extras for recipes:
Pectin ($1.88 for 2 boxes)
Sugar ($10 for 25 lb bag-yes, I do buy it in bulk)
You can do the math and see how much we save by home canning!
I've compiled a list of resources to help you even more
http://www.doityourself.com/stry/whycanfoods
http://www.pickyourown.org/
http://www.aces.edu/pubs/docs/E/EFNEP-0190/
http://www.aces.edu/counties/Baldwin/CanningQuestions.php
Whether you're an old pro, or have never canned, we hope you enjoy this week's adventure and share your recipes on our linky party!