Did you see the button on the right? Don't forget our upcoming "Canning Week" August 23-27! We're going to have giveaways, a linky party, recipes and tips! Just put our button on your site and comment on one of my posts to get your entries in. Stay tuned for more details and more ways to get entries!!
To my faithful followers, I've been quite lax lately with my posting. I've had strep throat since Wednesday. Who gets strep throat in the middle of summer?? The poor kids have been dining on dinners of hot dogs, chicken nuggets, and whatever the husband can put together on his own. Unfortunately, the girls' birthday party doesn't wait for me to get feeling better. Thankfully, my
mom
made the cakes. So all I was charged with was decorations and drinks. Thing #3 wanted a luau theme, and Thing #4 wanted pink and purple. Thankfully, those were quite easy to merge. With a luau theme, the obvious drink was Hawaiian Punch. Well, sick or not, I can't sit aside and do nothing! So we made Hawaiian Punch with a Punch!
What you'll need:
Hawaiian Punch
Polar Punch
2-3 Oranges
1 Lemon
2 liter lemon/lime soda
The day before, fill a few ice trays with the Polar Punch and freeze.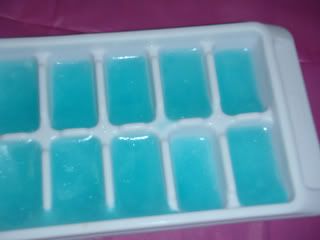 To make the punch, slice up one orange and one lemon and place it bottom of pitcher. Fill up half way to three quarters with Hawaiian Punch. Let this sit in the refrigerator for 2 hours. To really infuse the citrus flavors, lightly press on the fruits with a wooden spoon before adding punch.
Fill the rest of the pitcher with soda. Garnish pitcher with a slice of fruit or two.
To serve, put a couple of the Polar Punch cubes into the cup and fill with Hawaiian Punch.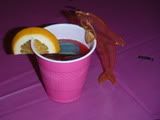 And if you're curious, here's how the cakes looked: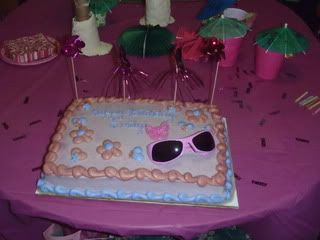 This post was linked to sites listed on this page