It's the last day of Canning Week...kind of bittersweet. I'm ready to get back to my regular blog, but we've had so much fun sharing our canning recipes, tips, and stories. When you're done here, make sure to check out
Ott, A
and her post!
Jalapeno Jelly?! Yes, you read that right. For those of you who have not tried it, it's really much better than it sounds.
What you'll need:
12-15 medium to large jalapenos
2 packages liquid pectin
2 cups apple cider vinegar
6 cups sugar
First, stem and seed peppers. Place peppers into blender with 1 cup vinegar and run on chop setting until no large chunks remain.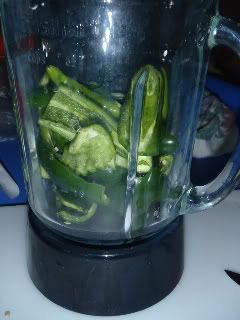 Pour into large pot and add other cup of vinegar and sugar. Bring to a hard boil and boil for 10 minutes.
Add two packages of pectin and boil for one minute. Here's a handy trick I learned. Cut off the tops of your liquid pectin and stand them in a glass, or in a measuring cup. Because timing is so critical in jellies, this will really help!
Remove from heat, skim off any foam, and pour into jars, leaving 1/4" head space. Wipe rims, apply lids and rings. Process for 10 minutes in water bath.
Now that you have tons of it, what are you going to do with it? I prefer to eat this on wheat crackers with some cream cheese. Leave a comment below telling us how YOU like jalapeno jelly.
Don't forget about the GIVEAWAYS this week! Today is the last day to get your chance to win. (I will take entries until 11:59 p.m. EST Friday-please note the linky contest will end at 4 p.m. today) Here are the ways to get your entries in:
One entry for joining our Facebook page
One entry for linking up in our Linky Party blog post contest (AND you'll get entered to win an awesome cookbook, which you can also buy on Amazon--makes a great gift)
One entry for commenting on one of my posts
One entry for commenting on one of Ott, A's posts
One entry for putting our "Canning Week" button on your blog (please comment and let me know you did)
One entry for Tweeting on Twitter (please comment and let me know and use "canning" as a tag)
Remember those awesome prizes from earlier posts? Well, courtesy of Fresh Preserves, we now have TWO canning starter kits to give away!!