It's time for our second Made From Scratch Tuesday! Last week was a huge success and we saw so many awesome recipes (and one really cute quilt). So it's time to link up all your homemade goodies!
This weekend, we had some sick kids. I didn't get to do a whole lot of cooking, or blogging. Saturday night, we made some pizzas though. I'm usually not a fan of homemade pizza crust, but I think I've found a recipe we can all live with! I grabbed this one out of my stepdaughters cookbook we got her for Christmas. I'm pretty sure I've used that thing more than she has! We made two pizzas; one cheese for the girls and one pepperoni for the boys and me. Granted, they were all feeling puny, but there were only two pieces left when everyone was finished. I think it's safe to say they loved it as much as we did!
recipe
I had my mixer do the hard work!
Next came the toppings and cheese!
What goodies have you been cooking up this week?
Here are the rules:
1. You can link up as many posts as you'd like.
2. My only content rule is it has to be made from scratch.
3. If you want to put my button somewhere, that'd be cool. You can grab the code on the top right of my sidebar.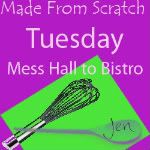 After you link up here, check out
Jennifer at Peas and Crayons
She has tons of recipes, DIY tutorials, and a Wednesday linky-What I Ate Wednesday!