I love linky parties. I love being able to see what everyone has been up to and all the fun things they've been creating. I spend so much time chasing around everyone else's linkups, I thought it would be nice to host one on my page as well. Have you seen my sidebar? Yeah, those are the linkys I go to every day! So, here we go with the first Made From Scratch Tuesday.
Here are the rules:
1. You can link up as many posts as you'd like.
2. My only content rule is it has to be made from scratch.
3. If you want to put my button somewhere, that'd be cool. You can grab the code on the right.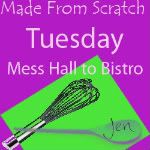 I made some yummy
Tomato Herb Bread
So what have you made this week?