Fish tacos are something I've been curious about, but had never tried. So when Meijer had tilapia on sale last week, I figured this was the perfect time.
I started out by cooking the fish on the stove in the juice of one lime. At the same time, I heated the tortilla shells in another pan. Now, for the toppings!
Now, to give them the taco feel, I decided to use a bit of the Philly cooking cream on the shells. I went with the Santa Fe style. Have you guys tried this stuff yet? OMG AMAZING! Love it! The first night I used it, I followed the recipe on the container, but we didn't use all of it. It had just enough spice to give the fish tacos the right flavor without taking over the fish. Here's the finished result:
Unfortunately, the husband didn't like them. That's too bad for him; I thought they rocked. I guess next time I make them he'll be eating cereal for dinner.
Make sure to visit the fantastic blog parties on my sidebar, and of course, link up all your made from scratch recipes on my Tuesday linky-Made From Scratch Tuesday!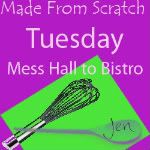 This post was also linked to