Wow! Lots of fantastic recipes from last week! This week I'd like to try something out. If you'd like your post tweeted, please follow me on twitter (@jenperfla) and mention Made From Scratch Tuesday in a tweet. No pressure here, just a thought as I'm trying to embrace Twitter.
This week, we had some awesome
Lamb Chops
that I fixed for
Ott,A's Iron Chef Challenge
sponsored by American Lamb.
We also had some delicious trout and stuffed mushrooms.
I cooked the fish in lemon juice and olive oil and seasoned it with lemon pepper seasoning, salt and pepper. So simple, yet so tasty! The mushrooms were stuffed with one egg beaten, chopped spinach, mozzarella and feta cheese. Then I baked them at 375 for 25 minutes.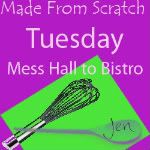 What goodies have you been cooking up this week?
Here are the rules:
1. You can link up as many posts as you'd like.
2. My only content rule is it has to be made from scratch.
3. If you want to put my button somewhere, that'd be cool. You can grab the code on the top right of my sidebar.