We have so many great posts linked up each week, but I'd like to know what your favorites are, so leave a comment on here (and on the blog you love!) telling what you like.
Here are some of my favorites:
PW's Awesome-est Blueberry Muffins from Lana
Heather's Sour Cream Chocolate Chip Cake
Leah's Almond Poppy Seed Bread
Liz's Sour Cream Coffee Cake
Ott,A's Peanut Butter Brownie
Now time to link up your stuff!!! What goodies have you been cooking this week?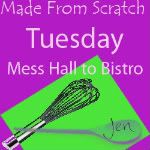 Here are the rules:
1. You can link up as many posts as you'd like.
2. My only content rule is it has to be made from scratch.
3. If you want to put my button somewhere, that'd be cool. You can grab the code for the Made From Scratch Tuesday button on the top right of my sidebar.