Earlier this month,
Red Hill General
Store provided some of the
Real Farmwives of America
with buckets (or tubs). Some of farmwife pals are showing off how they use their bucket on the farm. The rest of us opted to use the bucket in our homes/gardens. Make sure to check out
Real Farmwives of America
because one lucky reader will win a Galvanized Embossed Tub provided by
Red Hill General Store
!
We received a 2 Qt galvanized bucket.
I put it back for a few days, until the kids were clearly in need of something new to do. I gave them the bucket and asked them to come up with a few ways to use the bucket. They certainly came up with some creative uses and bonus...one bucket kept four kids entertained ALL DAY! Here are some of the things they did:
1. Pick peppers and tomatoes from the garden
2. Went to our aunt's house and helped collect eggs
3. Played "bucketball"
4. Made sandcastles
5. Filled it with crayons and markers
6. Helped dad clean his tools
7. Made a barbie hot tub
8. Wore it as a hat
9. Filled it with ice and drinks for our picnic out back
10. Fill with soapy water and help clean around the house
11. Turned it upside down and played the drums
12. Filled it with hairbrushes and hair ties
13. See who could balance it on their head the longest
14. Filled it with popcorn for movie night
15. And their favorite...dumping water on each other in the pool!
Here are some other ideas the kids had, but we didn't do
Fill with goodies and use it as an Easter basket
Fill it with water and place it over the door to pull a prank (you can see why didn't actually DO this one)
Start a bucket brigade
And what happens when the grownups get the bucket? We get crafty!
To begin, I taped off a rectangle on one side.
Then spray 3 coats of chalkboard paint on the bucket. Let dry for 24 hours and remove tape. Next, I painted veggies on the bucket. You can't really see in the picture, but there's an ear of corn on the other side. Let dry. Now it's time to pick the first veggies of the season; one tomato and 2 banana peppers!
Thanks to
Red Hill General Store
for providing us with this great bucket and don't forget to check out
Real Farmwives
for your chance to win!
Make sure to visit the fantastic blog parties on my sidebar, and of course, link up all your made from scratch recipes on my Tuesday linky-Made From Scratch Tuesday!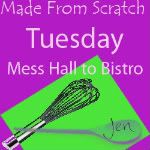 Please Note: Red Hill General Store provided me with the bucket. However, the ideas and opinions expressed are all my own.