Ott,A
is back this month with another Iron Chef Challenge. This month's sponsor is
King Arthur Flour
.
I picked up a bag of
Unbleached All Purpose flour
. Not all AP flours are created equally. King Arthur AP flour contains 11.7% protein. Why is that important? Check out
this page
for a basic breakdown.
Now that we're done with the Science lesson for the day...on to the cooking! I got the KitchenAid pasta roller and cutter set earlier this month and I've been dying to try it out. I used their basic egg noodle recipe below:
Ingredients:
4 large eggs
1 tablespoon water
3 cups sifted all-purpose flour
1/2 t salt
Directions:
Place ingredients in bowl, attach flat beater, turn to speed 2 and mix 30 seconds.
Remove the flat beater and attach the dough hook. Turn to speed 2 and knead for two minutes.
Hand-knead dough for 30 seconds to one minute. Cover dough with a dry towel and let rest 15 minutes before extruding it through pasta maker.
I dried and froze my pasta overnight, so it took about 8 minutes to cook. Fresh rolled pasta cooks in under 5.
For the sauce....
1 cup dry white wine
4-5 large tomatos-blanced, peeled and cut
1/2 cup extra virgin olive oil
1 cup chopped white onion
fresh oregano, thyme, rosemary and basil....be generous!
1 bay leaf
2 cloves crushed garlic or 2 cloves minced garlic
salt to taste
Combine all ingredients in large skillet over medium-low heat. Cook, covered, until onion is tender.
Toss cooked and drained pasta in sauce.
We opted to add chicken and fresh mozzarella...two thumbs up from the crowd!
Make sure to visit the fantastic blog parties on my sidebar, and of course, link up all your made from scratch recipes on my Tuesday linky-Made From Scratch Tuesday!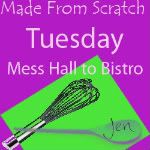 King Arthur provided me with a coupon for a free sack of flour. However, the ideas and opinions expressed above are my own.