It's time for another Iron Chef Challenge from
Ott,A
!
Maple Leaf Farms
is sponsoring another round of Iron Chef with the theme ingredient Duck.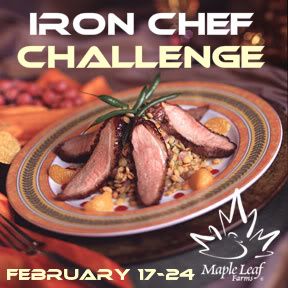 Last year, I did several
duck recipes
. So while searching for some inspiration, I came across their
sausage recipe
and I was intrigued. I set off to make duck sausage! My local grocery store doesn't sell ground duck, so I started with a
whole duck
, cut it up and did a fresh grind. (I saved some of the skin so I could render the fat and used the carcass to make stock)
To the fresh ground duck, I added 2 1/2 T onion flakes, 1 T toasted fennel seeds, 1 T sage, 2 cloves of garlic (chopped fine), 1 T breadcrumbs, 2 T rendered fat, and salt and pepper.
Mix well and shape into patties on parchment paper. Wrap tightly and freeze about 4 hours.
To cook, place sausages on baking sheet in a cold oven and turn the oven to 325. Bake about 30 minutes, or until cooked through.
We enjoyed our duck sausage with english muffins and scrambled eggs with feta cheese and green onions!
Make sure to enter your duck recipes over with
Ott,A
. And check out
Maple Leaf Farms
for your duck needs!
Now it's time to link up all of your creations!
Here are the rules:
1. You can link up as many posts as you'd like.
2. The post has to be made from scratch.
3. The post you link up MUST CONTAIN A RECIPE!
4. If you want to put my button somewhere, that'd be cool. You can grab the code for the Made From Scratch Tuesday button on the top right of my sidebar.