Did you know July is National Watermelon Month? And August is Watermelon Month in Indiana? In observance of those, I made a watermelon basket filled with other local fruits. Making a watermelon basket is super easy. Similar to carving a pumpkin, but easier!
To begin, find a large watermelon with a semi-flat bottom. Then mark where your "handle" will be on the top, and the edges around the middle. I used a jagged pattern, but the possibilities are endless.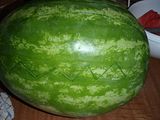 Cut along the edges and remove cutouts.
Scrape out melon and set aside.
Trim and necessary areas and fill with various fruits. Don't forget to put your watermelon pieces back in!!!
If you're making it for later, set filled watermelon in freezer until about 2 hours before you use it.