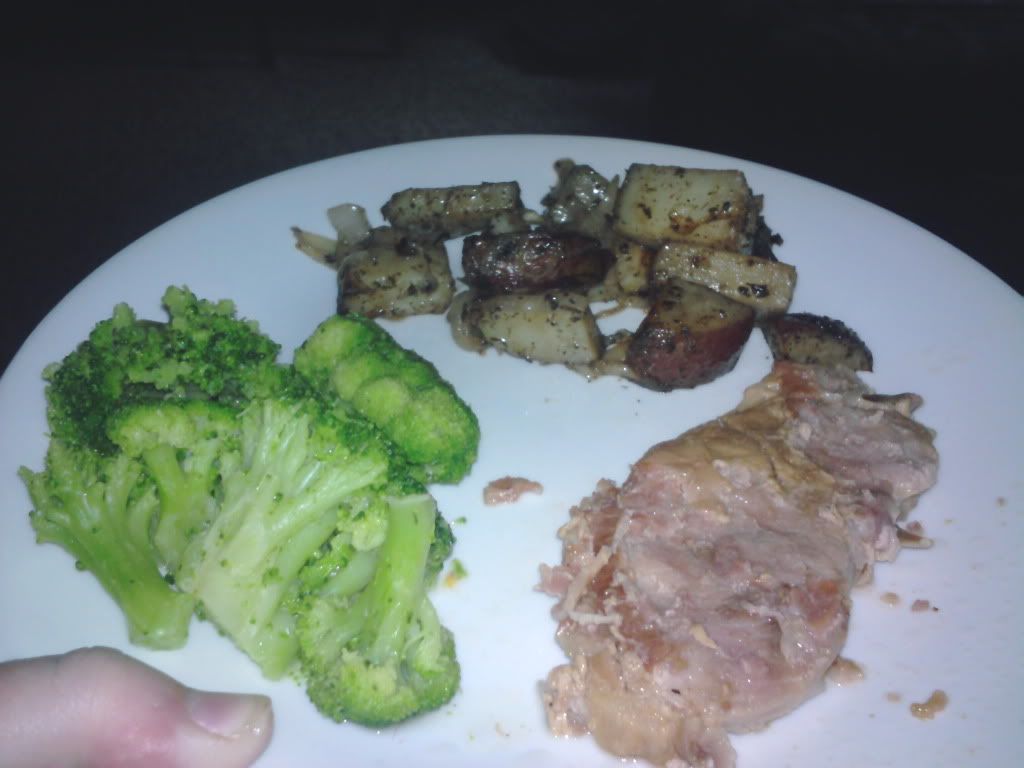 Peach tenderloin, rosemary potatoes, broccoli
For the tenderloin:
Pork Tenderloin
Sm can of peaches (in their own juice)
Brandy
Preheat oven to 275. In 11x13 pan, lay out tenderloin. If it's not a split loin, make an incision (about 1" deep) down the middle of the loin. Pour 1/4 c brandy into slit. Pour can of peaches around tenderloin. Cover tightly with aluminum foil. Bake 2 1/2 - 4 hours, until cooked throughout and tender. Serve by the slice.
For potatoes
Red potatoes (one and a half for each person, plus one extra for every 3 people)
Olive oil
Rosemary
Salt
Garlic (optional)
Wash and cut potatoes into quarters (or smaller if they're medium to large in size). In large skillet, pour about 1 tablespoon olive oil in pan and heat on medium. When oil is hot, add potatoes. Sprinkle rosemary, garlic and salt to taste on potatoes and let cook until brown on bottom. Stir potatoes and turn to cook other side. If potatoes stick, add olive oil, teaspoon at a time. When they are fully cooked, turn out onto paper towel lined plate to blot any excess oil.
Broccoli
Cook as desired--steam, microwave or boil
Combine all for a fantastic meal!