Since Borders is closing, we did some shopping lately and found some things we didn't necessarily need, but definitely wanted. That's where I found this cute fondue set. It came with a little book of fondue recipes, but I figure why go with someone else's creation when I can make my own, right? Now a while back, I joined up with
Coffeemate
and the Brew Crew. Cute, right? Anyway, the Brew Crew hooked me up with a sample pack to share coffeemate with my friends. I had planned on sharing all my goodies with my bloggy pals, but the weather happened and I couldn't make it to my January meeting, so I shared with another group of pals. But never fear! I will be sharing recipes created using coffeemate on here for you all.
Anway...back to the recipe.
To make this yummy fondue, in a small saucepan set on low heat, melt 3/4 c dark chocolate baking chips. When chocolate has melted, gently whisk in 1/4 c vanilla caramel coffeemate. That's it! Just pour this mixture into your fondue pot, light your candle and you're good to go!
This went great with strawberries, oranges and pound cake.
Make sure to save your leftover fondue and pound cake....another recipe for those coming later!
Make sure to visit the fantastic blog parties on my sidebar, and of course, link up all your made from scratch recipes on my Tuesday linky-Made From Scratch Tuesday!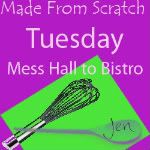 *Disclaimer: Coffeemate provided me with coupons for free coffeemate products, however the opinions and commentary are all my own.