The husband and I have had a blast trying out new recipes with canned tomatoes. The husband even jumped in on the cooking a time or two! While figuring out some new things to do with tomatoes, I stumbled across this recipe from
Allrecipes
:
Bacon Cheese Puffs
See my changes in italics
Ingredients
1 pound sliced bacon
2 1/2 2 cups shredded Cheddar Swiss cheese
1/3 c Parmesan Cheese
2 4 tablespoons prepared mustard cream cheese
1 cup mayonnaise
1 pound sliced pumpernickel party bread 12 buttermilk biscuits
1 can diced tomatoes
chopped fresh basil
3 T chopped green onions
Directions
Place bacon in a large, deep skillet. Cook over medium-high heat until evenly brown. Drain, crumble and set aside.
Preheat oven to broil.
Drain tomatoes well.
In a medium bowl combine the bacon, cheese, cream cheese, green onions, tomatoes and basil.mustard and mayonnaise. Stir well.
Arrange party bread on a cookie sheet. Spoon mixture onto each slice of bread.Roll out biscuit dough to about 1/2" thickness and cut large circles. (I would have shown the pictures of this, but really, it was just a flour-y mess!!) Press dough circles into muffin tin. Fill each biscuit well.
Broil for 5 minutes, or until bubbly.
We had these with pasta and veggies in a white sauce...super yummy!
I'm linking this up to
Ott,A
's Iron Chef Challenge. This month is sponsored by
Red Gold
tomatoes.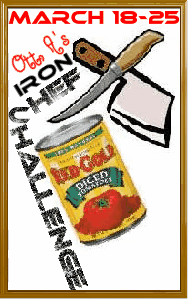 If you don't live in the midwest, you may not know about this company. Here's some info from their website:
"Our Mission:
"To Produce The Freshest, Best Tasting,
Tomato Products In The World"
A good harvest begins with strong roots, and we can trace ours back three generations. Red Gold began in 1942 when Grover Hutcherson and his daughter, Fran, rebuilt a Midwest cannery to provide fresh-tasting canned food products for the war effort. More than half a century later, we remain a family-owned business based in the heart of Tomato Country. "
I grew up on Red Gold tomatoes--honestly not knowing there were other brands until I started working in a grocery store at age 16! My family is from Elwood, Indiana where there's a Red Gold facility. I remember driving though Elwood many times and seeing the Red Gold signs everywhere. I guess it really stuck with me because I've never bought any other brand!
Thanks again to Ott,A and Red Gold for sponsoring this month's Iron Chef Challenge!