We love
King's Hawaiian Bread
in this house! They're the perfect size for sandwiches for the kids and they are so tasty with a bowl of soup. So when I heard
Ott,A's January Iron Chef Challenge
was King's Hawaiian Bread, I didn't have to look far for the theme ingredient.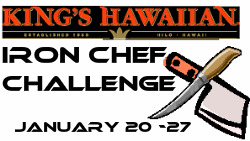 Sweet and Savory Stuffing
4 Kings Hawaiian Rolls
1/2 c stock (I made this with cornish hens, so I used chicken)
1/2 c carrots, diced
1/2 c celery, diced
1 medium onion, diced
1 avocado, diced
2 tablespoons olive oil
1/2 t thyme
1/2 t basil
1/2 t rosemary
salt and pepper
Saute the carrots, celery, and onion in the olive oil
While they are cooking, tear the rolls apart and place in an 8x8 pan. Lightly toast under the broiler.
Add in avocados and stock
Toss in sauteed celery, carrots and onions. Toss in seasonings and bake at 350 35-45 minutes.
Thanks to Ott,A and King's Hawaiian Bread for sponsoring this month's challenge!