All year long, Ott,A has challenged us with monthly recipe contests. December's challenge, sponsored by
Taste of Home
, challenges the winners from the entire year to make the same product using the same recipe (
cinnamon raisin bread
) and create a new dish using the finished product.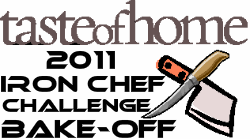 First, I made the bread
While the husband ate the second loaf, I brainstormed some recipe ideas. I came up with two and made them both. The first one was not so great. Good thing the second one was quite tasty!
Herb Crusted Stuffed Hens
What you'll need:
2 Cornish Game Hens (I bought frozen, so make sure they're completely thawed. Fresh ones generally have giblets inside, so be sure to remove those first)
1/2 loaf Cinnamon Raisin Bread, cut into 1/2" cubes (Fresh from the oven bread won't work as well for stuffing, so I made these 2 days after I baked the bread)
1/2 c chicken stock (I make my own, so it's full of onion, carrot and celery as well)
1/4 c carrots, diced very small
Equal parts savory, rosemary, sage
3 parts Thyme
Salt and pepper
Mix all seasonings/herbs in a small bowl and set aside. Prepare hens by rinsing thoroughly.
In a medium bowl, mix together cubed bread and 1 1/2 t of the seasoning mixture. Toss well.
Add in carrots, pour stock over bread, mix well and stuff birds.
Take the remaining seasoning mixture and coat the hens well.
Bake at 375 until a meat thermometer reads 180 when inserted in the middle of the thigh (about an hour). The meat is done when the juices run clear and the wings and legs move freely. If skin starts browning too much, make a tent with aluminum foil and cover the hens. Because stuffing can be a potential bacteria hangout, make sure it's cooked thoroughly!
The skin was so crispy and full of the wonderful flavors of the herbs!
The stuffing soaks up the earthy flavor of the herbs and a tasty juices from the poultry, while the meat absorbs the cinnamon and raisin flavors. It all makes for a surprising and wonderful combination!
Thanks to
Taste of Home
for sponsoring December's Iron Chef Challenge and to
Ott,A
for a great year of challenges!
From Mess Hall to Bistro-Iron Chef Challenge entries
January Maple Leaf Farms (Duck)
February American Lamb (Lamb)
March Red Gold (Tomatoes)
April Clabber Girl (Baking Powder)
June Dean's and Kelsay Farms (Milk)
July King Arthur (Flour)
September Red Star (Yeast)
October Ocean Mist Farms (Artichokes)