One more BIG thank you to all who participated in Canning Week! I hope you had a blast.
So now that you have all those wonderful jars sitting around, what are you going to do with them? Ott, A and I are going to start posting recipes using those great things we canned. If you would like to be a guest blogger on one of our blogs, please
contact me
or
Ott,A
and we will work out arrangements.
While I was canning my
Peach Marmalade
and
Peach Honey
, I also canned peaches. Just plain peaches. Have I told you how much I LOVE peaches? I don't discriminate against peaches of any origin, but I do have a favorite! I recently started getting peaches from
Anderson Orchards
. They are just amazing! They look, smell and most importantly taste wonderful! If taste is your only concern, they also have peach seconds. I used those while making peach butter. But that's another blog for another day!
Back to the topic....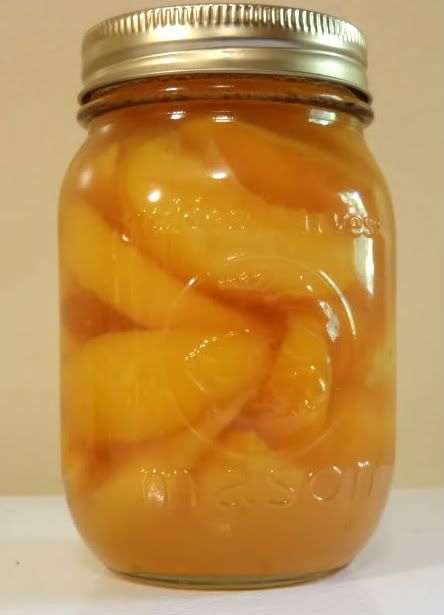 Almost Unbelievable Peach Cobbler
What you'll need:
1 pint of canned peaches, drained
1 box cake mix-yellow or butter cake (gasp! Yes, I DID say cake mix)
1 stick butter
Preheat oven to 350
Pour drained peaches in the bottom of an 8 x 8 glass pan. Evenly sprinkle cake mix on top of peaches. You won't need the whole box, just about 2/3 of it. It really depends on how much cobbler you want with your peaches. If you like a thick upper "crust", then go ahead and use the whole box. Cut your stick of butter into several small pats and lay them evenly on top of the cake mix. Bake at 350 until the top begins to brown, 35-45 minutes, depending on how much cake mix you used. Let cool, slightly. The husband will throw a scoop of ice cream on top of his, but I prefer it just the way it is!
Even if you didn't join in on Canning Week, the best part about this recipe is you can just use fresh peaches! Just peel, pit, and slice them up in the bottom. This recipe will work with just about any fruit. We're right in apple season in Indiana. Cortland apples are my favorite to use in this recipe, but just about any apple will work.
What local products are you using? If you blog about your local foods, leave a comment with your blog address so we can all check it out.
Going Local Week (Indiana) is September 5-11. Celebrate by eating at least one meal a day featuring an Indiana product!